TSStart is a complete compact coolant heater running in thermosiphon principle.
Our offer characteristic
Power : 500 – 1000 – 1500 – 2000 Watts.
Tension: 200 – 240 Volts – 50/60 Hz (Option: 110, … Volts)
Température range : 30-45°C., standard (Option on request).
Water inlet and outlet: 5/8 " – 15 mm.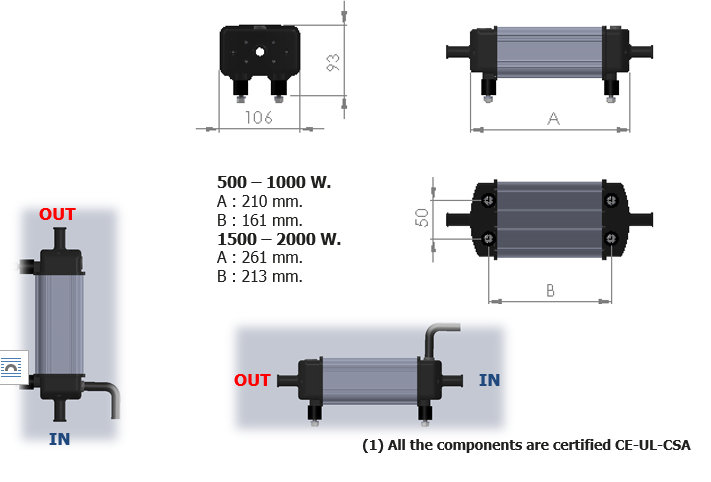 Principle
No direct contact between fluid and heating elements
The power decreases automatically and proportionally as a result of the engine temperature rise in order to achieve an ideal minimum temperature to maintain power.
Power is dissipated according to ambient temperature, fluid temperature and flow rate.
Specifications
Easy to install, horizontal or vertical, on a wide variety of engines, use
Insensitive to vibration
Manual bleed valve
Safety thermostat 105 °C., with automatic reset
Regulation thermostat with fixed setpoint
Weight : 1.5 Kg.
Accessories
4 anti-vibrations pads – M6
2 fixing brackets with screws – M8 (Screws, nuts, washers)
http://www.hightechheaters.com/wp-content/uploads/2020/06/logo_hth4.png
0
0
netsmgt
http://www.hightechheaters.com/wp-content/uploads/2020/06/logo_hth4.png
netsmgt
2019-03-19 11:18:02
2019-03-25 20:32:41
AWAL preheaters will be presented at SIFER 2019 (NGL Stand 1/450) at Lille grand Palais from 26 to 28 march 19
http://www.hightechheaters.com/wp-content/uploads/2020/06/logo_hth4.png
0
0
netsmgt
http://www.hightechheaters.com/wp-content/uploads/2020/06/logo_hth4.png
netsmgt
2019-03-19 11:17:32
2019-03-24 05:50:25
About patented technology, product are presented for sale with a completed inside new configuration
http://www.hightechheaters.com/wp-content/uploads/2020/06/logo_hth4.png
0
0
netsmgt
http://www.hightechheaters.com/wp-content/uploads/2020/06/logo_hth4.png
netsmgt
2019-03-18 04:34:48
2019-03-24 05:49:53
HTH decide to rebuilt website to present better AWAL trade products